If you are planning to upgrade your desktop and looking for best performance video graphic card under 5000 budget. We have prepared a list of best video cards to improve your desktop performance.
Graphics card is one of the important hardware devices that effectively improve the display qualities and performances of computers. It is important that you possess one so that you can enjoy watching movies, playing games and carrying out other important tasks in manners more impressive. If you are planning to buy a graphics card. We have prepared a list of top best graphics card companies list, which is as Asus, MSI, Gigabyte, Zotac, NVIDIA.
The main work of computer Graphics card is, It takes video data from CPU (Processor) and converts signals for monitors.
Advantages of Installing a Graphics Card
Better Gaming

– A better graphics card significantly improves a computer's gaming ability.

Better Video Performance

– A good graphics card can help a video editor get work done faster.

Free Up Memory

– Installing a graphics card will free up that memory for the computer to use in other tasks.

Smoot Computing Experience

– Installing a graphics card can make your experience smoother.
Best Graphics Card under Rs.3000 to 5000
These are the entry-level graphics card which price range can be 3000 to 6000. The series of this range cards start as GeForce GT 430, GeForce GT 730, GeForce GT 1030.
1. ZOTAC NVIDIA Geoforce GT 1030 2GB Graphics card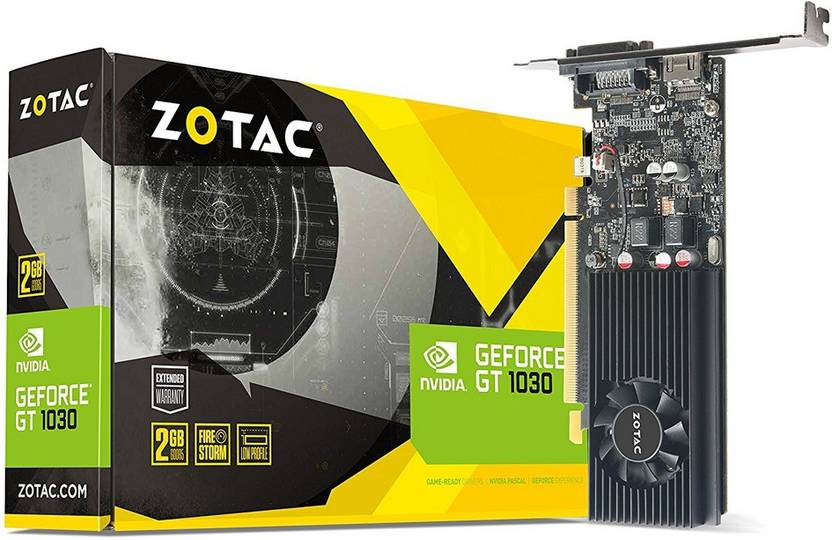 The new ZOTAC GeForce® GT 1030, powered by the NVIDIA Pascal™ architecture to accelerates your entire PC performance. ZOTAC GeForce GT 1030 fits in even the smallest of systems with low height clearance. It also deploys multiple display out ports including HDMI 2.0 with 4K output @ 60Hz so users can expand the view with up to two displays. The graphics card is good for beginner gamer for playing games like GTA V – 90 FPS @ Max resolution with high settings and PUBGM- 60 FPS @ HD and 1080p resolution.
Short Specifications – | 384 CUDA cores | 2GB GDDR5 memory | 64-bit memory bus | Engine clock (base): 1227 MHz (boost): 1468 MHz | Memory clock: 6.0 GHz | PCI Express 3.0
2. Zotac NVIDIA GT 730 4 GB DDR3 Graphics Card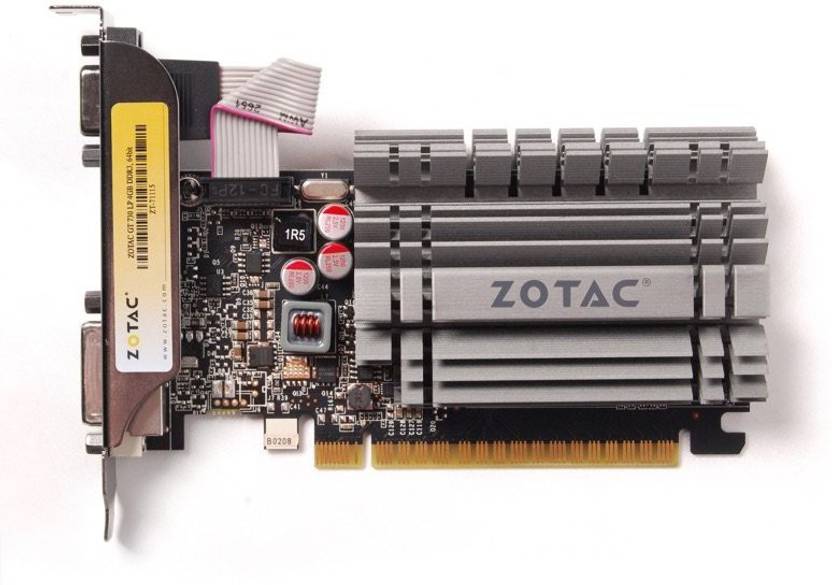 ZOTAC GeForce® GT 730. Hardware accelerated Blu-ray 3D playback enables the ZOTAC GeForce® GT 730 to render stunning stereoscopic high-definition video with compatible displays and playback software. The graphics card works fine for second-run games, photoshop, illustrator and other applications. Its quality is good according to the price you won't find anything comparable.
Short Specifications – | 384 processor cores |  4GB DDR3 memory | 64-bit memory bus | Engine clock: 902 MHz (Boost) clock: 1600 MHz | PCI Express 2.0 (x8 lanes)
3. Zotac NVIDIA GeForce® GT 710 2 GB GDDR3 Graphics Card
 
Now enjoy up to 10x better performance than integrated graphics in all your favourite PC applications. With a 2 GB DDR3 memory and a clock speed of up to 954 MHz, this graphics card makes your entire PC experience faster. Featuring DL-DVI, VGA and HDMI ports, this graphics card offers you multiple connectivity options. But the GPU is not for hardcore gamers you can use this card for the improvement of an old system.
Short Specifications – | 192 processor cores |  2GB DDR3 memory | 64-bit memory bus | Engine clock: 954 MHz | PCI Express 2.0 
4. MSI GT 710 2GD3 LP 2GB Graphics Card
Enjoy all your videos and pictures in HD with the MSI GeForce GT 710 Low Profile Graphics Card. With 2GB of DDR3 RAM, the GT 710 provides faster video editing, photo editing, and web browsing than integrated graphics. You can also get drivers and optimize game settings with a single click using the GeForce experience. The MSI GeForce GT 710 also features a single fan cooler. It consumes very less power and occupies only one PCI slot.
Short Specifications – | 192 processor cores |  2GB DDR3 memory | 64-bit memory bus | Engine clock: 954 MHz (Boost) | PCI Express 2.0 
5. 

Gigabyte NVIDIA GeForce GT 710 2 GB DDR3 Graphics Card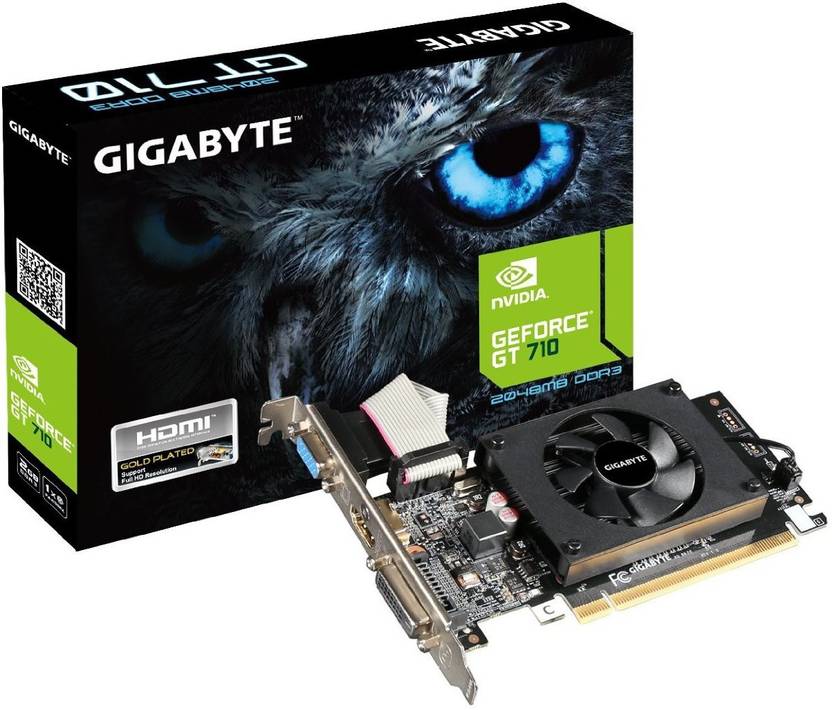 This card is intended as an upgrade of existing older generation computers and provides a possibility to play average level 3D games like World Of Warcraft, Portal 2, G.R.I.D using low or average picture quality settings. This graphics card has 1 HDMI port, HDMI is among the most modern ports if we speak about connecting TVs and the latest generation monitors.
Short Specifications – | 192 processor cores |  2GB DDR3 memory | 64-bit memory bus | Engine clock: 954 MHz | PCI Express 2.0 (x8 lanes)